The holding of the personal development forum "Towards Future", dedicated to the "Year of Heydar Aliyev" in 2023, is aimed at further career plans of young poeple, whom national leader Heydar Aliyev called the bright future of Azerbaijan, and will contribute to their becoming succesful personalities in society.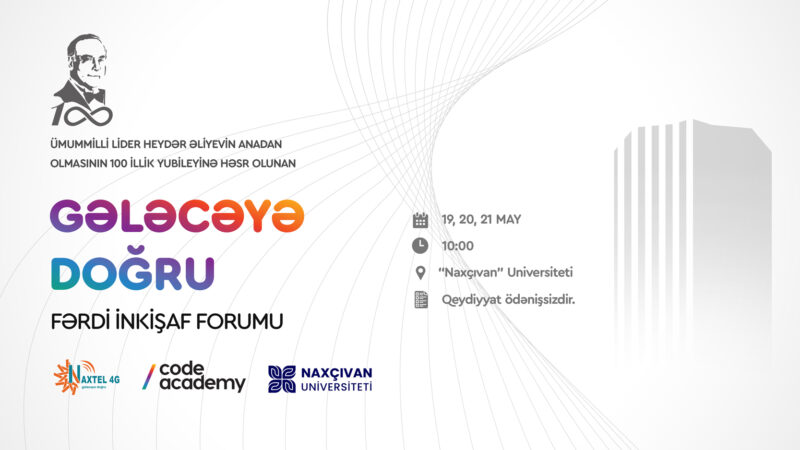 "Nakhchivan Marathon – 2022" was held in honour of the 99th anniversary of the national leader Heydar Aliyev with the joint organization of the New Azerbaijan Party Nakhchivan Autonomous Republic Branch and the Youth Foundation of Nakhchivan Autonomous Republic and sponsorship by "Naxtel" Limited Liability Company. The marathon attended by 2000 young people started at 11:00 AM in front of the Olympic Sports Complex named after Ilham Aliyev and finished near the Uzunoba Lake.
 Along with mobile services, our company also contributes to the training of future professionals.  Improvement classes organised since last year continue this year. 
The Nakhchivan Marathon 2019, dedicated to the 96th anniversary of national leader Heydar Aliyev, was held on May 5, 2019, with special support from Naxtel.
Naxtel continues to rejoice. In order to demonstrate the skills of amateur and professional photographers and reward outstanding participants, we present you with a photo contest called "The World Through Your Eyes".
At Naxtel LLC, we work to ensure that everyone has equitable access to technology by bringing it to every corner of the Nakhchivan Autonomous Republic and educating people about the benefits of science and technology. We present the project "Future Values" as a consequence of our efforts.
Naxtel, which has always been a trailblazer, chose subscribers from the Autonomous Republic's cities and regions based on a variety of criteria and presented them with excellent presents at the end of 2018.